First aid in the workplace.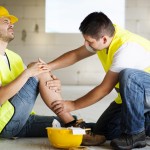 Under the Health and Safety (First-Aid) Regulations 1981 employers have a legal duty to make arrangements to ensure their employees receive immediate attention if they are injured or taken ill at work.
The employers should consider the nature of the work they do, the workplace, the workforce, and the hazards and risks present in order to ensure the firs aid provision is 'adequate and appropriate in the circumstances'.
Employer's duties
Ensure first aid provision such equipment and facilities are adequate and appropriate under circumstances.
Ensure qualified and trained persons are appointed for rendering first-aid to his employees.
Comply with Safety Signs and Signal Regulations.
Provide suitable training for first aiders
Ensure suitable and sufficient first-aid materials and equipment.
Factors to consider when selecting someone to take the role of a first-aider
Reliability, disposition and communication skills;
Aptitude and ability to absorb new knowledge and learn new skills;
Ability to cope with stressful and physically demanding emergency procedures;
Normal duties, which should be such that they may be able to respond.
Please select the topic of your interest: